Description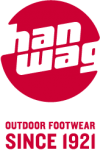 The Hanwag Men's Makra Combi GTX is a versatile partner for advanced tours in the mountains that can challenge glaciers as well!
These mountaineering boots are part of the Hanwag's Rock line, which means that they were specifically designed for alpine travel. The upper is made of an extremely robust combination of high-quality suede and Cordura. A light and ultra-thin GORE-TEX membrane will provide protection in wet conditions and is breathable at the same time.
The highly technical Vibram PEPE sole with its honeycomb structure will provide excellent traction on the rock. The reinforced sole and a memory foam insole allow for an optimal transfer of energy and provide support as well.
There is a heel welt for semi-automatic crampons. The soft cuffs are padded and will provide your ankle with support. The optimised Ghilly lacing in the toe serves to further stabilise your foot in the boot. Regardless of whether you're on rock or ice, the Hanwag Makra Combi GTX will provide you with the comfort and traction you need!
Particularly lightweight and stable allrounder for demanding mountain tours with glacial sections.
Details:
Aggressive sole construction for optimized climbing
Heel welt for semi-automatic crampons
Cordura® with reinforcing seams
Optimized Ghilly lacing in the toe area
Soft cuff with honeycomb structure for additional comfort