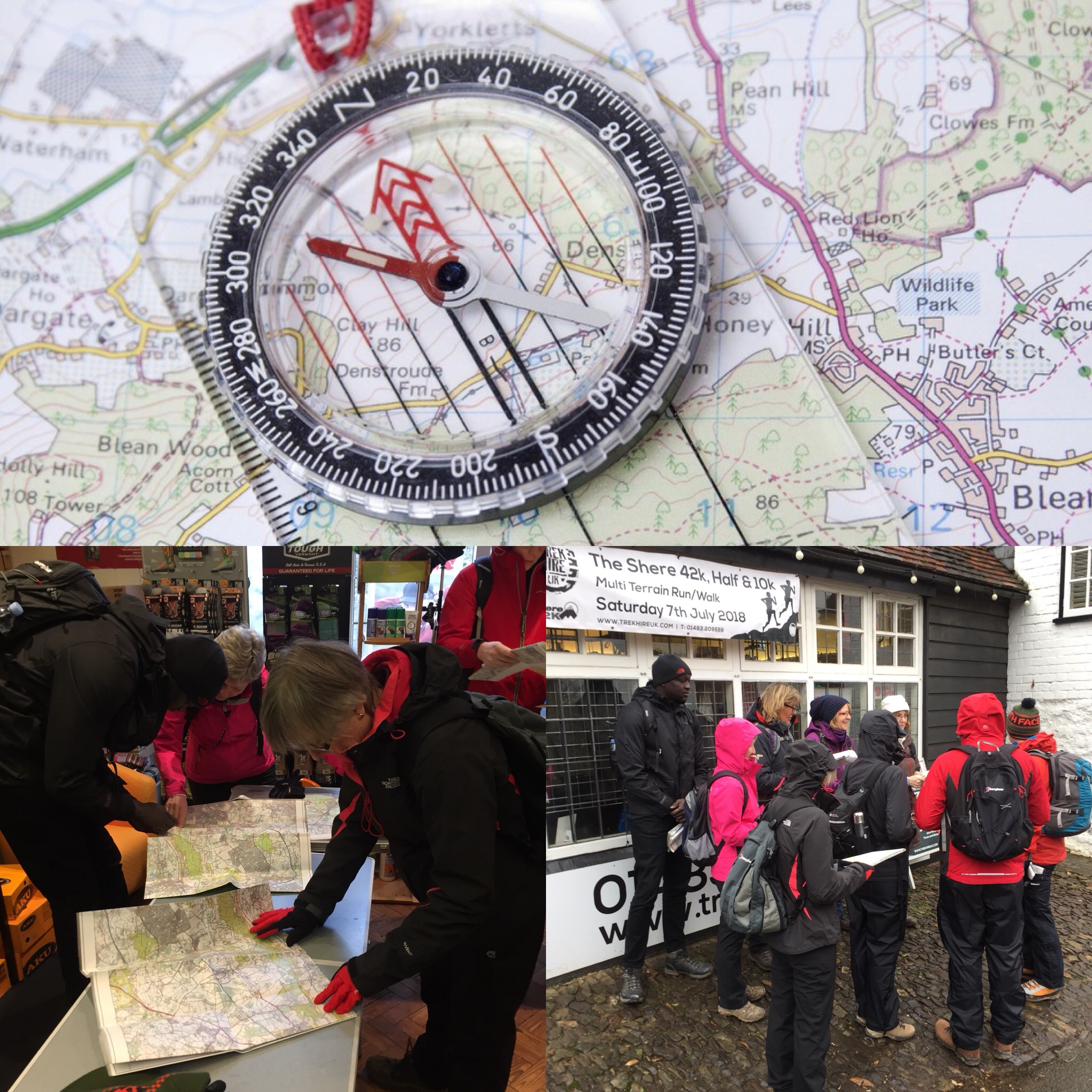 Map Reading and Navigation
Our Map reading and navigation days are a great way to re-introduce you to navigating with good old map and compass. Please note that we are limited to eight people.
These days are generally on a Sunday  – Introduction to navigation course based from our shop in Shere.
Beginners Course – NEXT AVAILABLE DATES:
TBC
Please send us an email (form below) if you are interested in either course and we will add you to our waiting list,

Beginners map reading and navigation – Course content
This is a one day course to give you the confidence and skills to safely navigate through the lowlands and hills of Great Britain.
This is a very hands on day with lots of opportunities to learn and practice new skills under the friendly supervision of an experienced and fully qualified mountain leader.
We will explore the fundamentals of map work and we will look at well known UK maps, their symbols and scales. There will be sessions on contour interpretation, route selection and the use of pacing and timings.
All our courses run at a pace to suit every ones learning style and we will begin with simple techniques and use these as the building blocks for progression.
The course will be based from our Shop in Shere, Surrey with practical sessions in the surrounding beautiful Surrey Hills and North Downs Way.
Intro to maps and map making
Symbols and scale
Contour interpretation.
Compass use for measurements and bearings
Route choice
Timings and Pacing
Different rights of way and the law
Price per Person – £40.00 (Introduction) – Lead by our qualified Mountain Leader Sean
Payment – Cash on the day
Advanced map reading and navigation – Course content
Identifying prominent land features on the map using map contours. Use of land features as a means of navigation in good visibility
Orientating the map to the land using visible features.
Competent use of a compass to navigate and confirm map orientation.
Estimating distance traveled on the ground using timing and pacing
Use of macro and micro navigation to navigate to an objective
Learning techniques to navigate accurately in poor visibility or darkness.
Dealing with navigational error and learning relocation techniques.
Identifying hazards on the map and en route
Learn how set a reasonable objective by taking into account your personal fitness and terrain you intend to walk over.
Understanding how best to select clothing and equipment for the type and location of walking being undertaken.
Learn about safety equipment to be carried appropriate to your objective.
For interest only, discussion on use of GPS to aid navigation
This is an ADVANCED map reading and navigation session, to attend this training day you must have either attended a previous Trek Hire map reading training day or be confident in using a compass for basic bearings and a map with knowledge of map symbols and their meaning. You must also have the physical ability to walk up to six hours over hilly terrain carrying a rucksack with personal clothing and lunch.
Advance Course – NEXT AVAILABLE DATES:
Sunday 12th June 2022
Price Per Person – £60.00 (Advanced) – Lead by our qualified Mountain Leader Sean
Payment – Cash on the day
To book in, please call us on 01483 209559 or simply email us at sales@trekhireuk.com
Once booked in, you will receive a list of things to bring with you i.e clothing, sandwiches etc… but all course related equipment will be supplied by Trek Hire UK
Hi Mick and Elaina,
Just a little note to say thank you for a fab day. Lovely location – Surrey Hills, great route and great teacher. Sean clearly explained how to take a bearing, he was very patient and clear explaining how and why .
This course is great for people like me who love walking and need a refresher on map reading, the benefits of being able to take a bearing and know where you are ! GPS is great but I am prone to my phone battery going or no signal so for me it is great to go back to basics
Thank you and I look forward to part two !
Mick,
"A big thanks to you and Sean for a wonderful day.
The material, delivery, theory combined with and practical experience was perfectly blended into an excellent course for all levels of competence.
Will fine tune these basic skills and join you all again for an intermediate or advances nav skills course in the near future."
Cheers,